In 2020 Launch Your Startup Like A Hip Hop Record
How A Career In Hip Hop Helped Me Understand The Tech Game
(Alex Higdon, Nas, Me, Bugsy, Miguel Baguer, Michael Mauldin, Steve Stoute, 1997)
---
"Atlanta is the Witness Protection Program for the former record label executives" I like to tell people jokingly when I talk about why I moved to Atlanta in the early 2000's from New York. In many ways it feels that way when I think about the many lives I have lived both personally and professionally and a career that has taken me from a kid growing up in the Bay Area to LA to NY to Atlanta and now back to Los Angeles.
For so many reasons Atlanta was an important second city for me during the "golden era" of the 90's music and it would serve me well at the top of the 2000's when I moved there. It was in that city that we celebrated, launched, toasted and spent money with hip-hop's up-and-coming, rich and famous as a young marketing executive at Columbia Records. You would dare find a record label that was as successful as we were in the mid 90's and that experience created an incredible career track for me in my early 20's. Let's face it taking artists from obscurity to fame for a living with a healthy six-figure salary was probably as good as it gets for a young professional. Despite all of that by 1998 I found that the music industry I loved was completely missing out on this thing called "the internet" and as a kid who grew up in Silicon Valley and wrote code on a Commodore Vic 20 as a high schooler this felt like the writing on the wall. It was time to find something more innovative and progressive than the "old way" of marketing culture.
This discomfort led me to act on my "side hustle" which back then was the creation of an email newsletter that I grew from 300 to 25k subscribers (kinda like this newsletter) and subsequently sold to a "dot-com" called Urban Box office (UBO) in New York City in 1998. This would be my first startup company and take me on a wild ride where we raised $40m dollars, hired 320 employees and in the same time lost our co-founder George Jackson and my hero to a heart attack all in the course of 15 months. Many of my music industry friends thought I was crazy for not staying on the record label career track but going back to the music industry felt like going backwards for me. Working at a startup in the late 90's doing content before anyone was doing content was an incredible masterclass in hustle.
---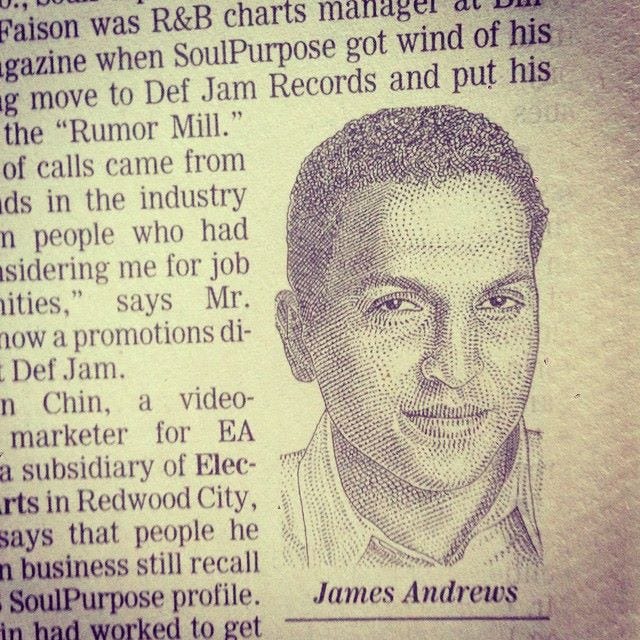 (Wall Street Journal, Urban Box Office/SoulPurpose.com, 2000)
---
So after many years of keeping my music industry career relatively in the background I'm ready to talk about it. Truth be told, when you practically grow up in the music business you never really "leave" the industry but I did have to get intentional about expanding my career narrative and the process led me to understanding technology even better.
My grind to the top of the music business was no cake walk and I wouldn't trade my journey for anything. The skill set I acquired selling an artist vision through bottom-up strategies is something I still use every day with growth stage startups. After all, this is how today's products are launched and those of us who built our careers in culture industries all feel very fortunate to get this kind of marketing training; this was our Harvard B-School.
All of this sounds good today but when I moved to Atlanta in 2004 and wanted to revamp my career I felt like I had to "scrub my resume" and remove all of the music industry career highlights. While in the job market it became evident I wasn't being taken seriously as a marketer and it hindered and bothered me. Made no sense I thought. Here I had developed and executed complete marketing plans, managed millions of dollars in marketing budgets, planned paid media campaigns, built international touring plans and yes spent many a day on a music video set. Despite I found most people I met with were more enamored with the stories of the famous people I knew met and hung out with without ever really taking my background seriously. So I decided to press CTRL-ALT-DEL on my career and found positions with a few digital advertising agencies before launching my social media agency in 2010 which I sold in 2014.
Flash forward to today, I have now sold a company in both "Web 1.0 and Web 2.0," worked at a few top global digital agencies, built an agency or two and feel extremely passionate about my current advisory practice Authenticated Ventures, where we launch new ideas, products and experiments with brands and startups. Honestly, all of this would not be possible without the time I spent in Hip Hop. Here are the top things that I learned on my journey as an early pioneer in the hip hop business:
NEVER TAKE NO FOR AN ANSWER is something I learned while promoting artists at radio to get spins for my artists. Often the difference between a DJ giving your artist a trial was YOUR persistence. This is true for some of you who are letting the first "No" live as the final answer — unheard of where I'm from!
RELATIONSHIPS ARE CURRENCY is a concept I learned from great execs like Clarence Avant, Maurice Warfield, Demmette Guidry, and Vivian Scott Chew. These giants of entertainment business helped me understand how to navigate a wide and non-linear network from Harvard to Harlem and The Grammy Awards to The White House. Most importantly not just how to navigate but be comfortable in all the rooms. Nothing more valuable then your network and as my friend Porter Gale says in her book Your Network Is Your Net Worth"Networking has evolved from a transactional game to a transformational process." Value your relationships and you never know where your investor or partner will come from. Your Network is Your NET Worth.
HIP HOP IS FULL OF TECH ENGINEERS is a take away I learned from spending so much time with the producers, engineers and dj's behind the scenes. The greatest tech lessons I learned were from great DJ's like DJ Jazzy Jeff, DJ D-Nice, DJ Eddie F, Daddy O all of whom were pioneers in Hip Hop and at the same time could break down tech, gadgets, web and code better than anyone I knew. Remember that Hip Hop is an art form that was created as the direct result of breaking music technology tools and putting them back together again. Your greatest technology teachers could and should come from places other than your IT department and if you have a DJ or music producer in your life you have someone who probably understands technology and trends better than you think. Who knows they may be able to make a dope beat too.
START WITH A FEW PASSIONATE FANS is an approach we had to take with hip hop in the early days. Due to a lack of airplay and exposure outside of college radio, we were pretty reliant on word of mouth marketing. Often it was the influencer in the market who were the difference makers for us to get the word out. Today that same influencer lives in social platforms but the same approach holds true when launching new products. Fan marketing also works for B2B relationships. Many times there was that one executive at a brand, media company or even at the parking attendant whose passion for my artist gave me an opportunity to pursue ways to work together. If you are launching a product, start with the "Passionistas" and find out how they can help you create your success or launch your product.
ALWAYS BE THE DJ is what I learned traveling the world with DJ Jazzy Jeff and sitting in many club DJ booths and listening to tons of sets. The DJ is the original curator of culture. On the road with Jeff I spent my days digging in crates at record stores, buying never-seen-before sneakers and getting an opportunity to see first hand how a crowd reacts to a record you try out for the first time. This drives me today as a consummate seeker of information, trends and insights in culture. I'm often giving speeches in cities and staying an extra day to really see it from the local's eyes. In fact we built a whole tour around this idea of city exploration called Culture & Code that we are launching again in 2020.

---
(Adrian Miller and Me, Power 106 Radio, Los Angeles 1993)